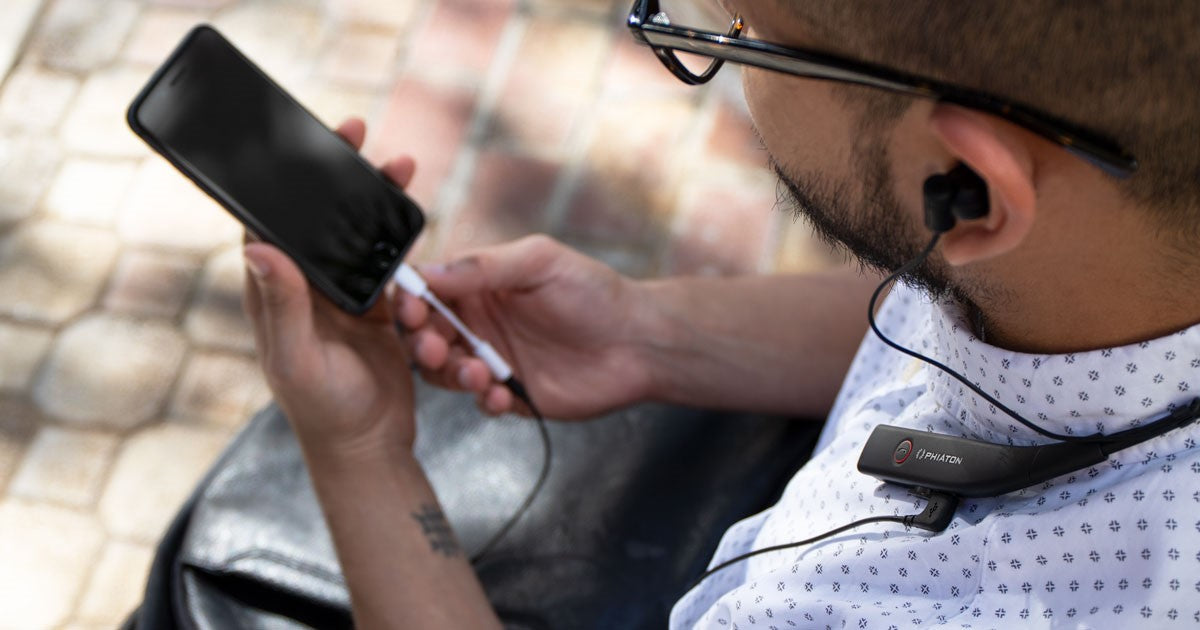 Getting to and from work is enough of a grind even if you don't live in a major metropolitan area. For those of you who do live in a decent-sized city, though, it can be an outright nightmare, whether you hop one train to get from your place to the office, or you have to switch tracks three times, take two buses, and hoof it by foot that last quarter-mile.
No matter how you get to work, though, good neckband headphones can make your commute that much more bearable. This innovative design provides instant accessibility with minimal inconvenience and discomfort, and a great balance between portability and features, making it ideal for business commuters on the go.
So, if you're trying to get a little relief from your daily slog to and from the office, here are four big features to keep an eye out for when shopping for your next new headphones.
Noise Cancellation
This was our top feature to keep an eye out for when buying headphones for air travel, and it's at the top of the list here for the same reason. The drone of bus engines, the click-clack and roar of a subway car, or just the general noise of commuter traffic can all wear you down, even over the course of a short commute. With a good neckband headphone like the CURVE BT 120 NC or BT 100 NC, you'll not only get good isolation from outside sounds thanks to the four sets of included silicon ear tips—which come in a variety of sizes so you can find the best fit—but you'll also get great active noise cancellation that samples the din around you and nips the most offensive noises in the bud.
Good Battery Life (Without Extra Bulk)
Of course, things like noise cancellation (not to mention wireless connectivity) do use a good bit of energy. And while you likely won't need to get a full day's use out of your headphones if you're just using them for your daily commute, you likely need a bit more juice than your average wireless earphones provide.
The good news is, both the Phiaton BT 120 NC and BT 100 NC have extra space in their collars for battery space (and crucial electronics), so you'll get between 6 and 12 hours of continuous use, depending on whether you need noise cancellation or other features. And if that doesn't get you there and back again, you might want to check out the CURVE BT 120 NC with fast charge technology, or look around for a new job instead of a new set of headphones.
A Comfortable Collar
The collar that houses the electronics of a neckband headphone is one of the things that makes it so great for commuters. Then again, you're going to be spending a good chunk of your day with the thing around your neck, so you want to make sure that it's not a burden. The good news is, the BT 120 NC and BT 100 NC are both featherweight—the former weighing just 0.14 lbs. and the latter tipping the scales at a barely there 0.076 lbs. (that's less than one tenth of a pound for those of you who aren't commuting to and from accounting jobs). The BT 150 NC's collar is also made from a rubberized memory flex material for enhanced comfort when you're on the go.
What's more, the sweat and water resistant CURVE BT 120 NC's Memory flex neckband provides lightweight suspension behind the neck, features 12mm dynamic drivers and boasts active noise cancellation, cancelling low frequency noise by up to 95%.
Added Conveniences
When you're at the mercy of public transportation, it's always a good bet to expect the unexpected. That's true of your personal audio solution, as well. That's why Phiaton's neckband headphones boast a handful of features designed to make your commute better when things don't go exactly as expected.
Unexpectedly getting dragged into a conference call in the middle of your journey, for example. That's not the nightmare you may expect, thanks to the CVC (Clear Voice Capture) technology built into Phiaton's BT 220 NC and BT 100 NC. CVC works by applying a combination of background noise suppression and noise cancellation to ensure that everyone on the other end of the line can always hear your voice clearly, and you can hear theirs.
Worse than an unexpected conference call, though, is an unexpected dead battery. That's where Phiaton's Everplay-X technology comes in. If you do find yourself forgetting to charge your neckband headphones overnight, just pull out the included audio cable, connect it between your portable audio device and the headphones themselves, and you can keep on listening to your heart's content.
By Dennis Burger
September 26, 2019
Recommended Reads:
The Best Headphones for Airplane Travel
Why Headphone Design Matters: How to Pick Between Headphone, Earphone, and Neckband Designs
Neckband Headphones: Why Is This Design Becoming So Popular?